Top 10 Places to Visit in Romania
Whoever had the chance to visit the territory of Romania can tell that it is a land of great natural and cultural wonders that you should take the time to enjoy at least once in a lifetime.
#1 Maramures Region and the Merry Cemetery of Sapanta
Situated in the north-west of the country, the region of Maramures stands as the quintessential land of authentic traditions, a place where people still wear their colorful folk costumes, manufacture ancient house objects and are always proud to tell their visitors their famous collection of old stories. Together with its renowned Merry Cemetery where each tomb reads an original autobiographical poem, it is definitely one of the places worth visiting.
#2 The Christian Monasteries in Moldova
No other place in the whole land can give you the peace and unique feeling of spiritual fulfilment as the numerous monasteries scattered across the Moldova region, each with its specific architectural elements and story to remember.
#3 Peles Castle
Whether you are fond of princess tales or fascinated by the monarchy traditions, Peles Castle opens its doors with its fabulous history for any cultural tourist visiting Prahova County, situated in the south of the country.
#4 Black Sea Shore
Romania also prides in its single Black Sea Shore with its 15 welcoming resorts and fine well-kept beaches.
#5 Bigar Waterfall
Known as one of the most spectacular waterfalls in the world, the Bigar Waterfull is unfolding its mystery in Caras-Severin County for hundreds of visitors every year.
#6 The Danube Delta
Situated in the eastern part of the country, the Danube Delta is by a far a unique place of calm, serenity and mystery as well as of breathtaking beauty if we were to consider but its species of plants, birds and fish.
#7 Salina Turda
Situated in the heart of Transilvania, County of Cluj, Salina Turda definitely stands as an utter historical museum of salt mining available for visitation and tour taking.
#8 Sibiu
Situated too in the heart of Transilvania, Sibiu has recently become more popular for its election as the cultural capital of Europe in 2007, mostly due to its ancient center and most impressive architectural styles.
#9 Sighisoara
Situated in Mures County, Sighisoara is the perfect tourist destination for every visitor hungry for medieval legends and vestiges.
#10 Bucharest
Capital city of Romania, Bucharest is also the largest and most imposing city in the country.
Which of these places have you already visited? Which one should we add to the list? Tell us your opinion!
Come to the Romanian Course organized by Crystal Mind and you will discover a whole new world!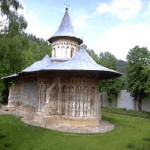 Top 10 locuri de vizitat în România
Oricine a avut şansa să viziteze teritoriul României poate spune că este o zonă a marilor minuni naturale şi culturale pe care ar trebui sa le savuraţi pe îndelete măcar o data în viaţă.
#1 Regiunea Maramureş şi Cimitirul Vesel de la Săpânţa
Situată în nord-vestul ţării, regiunea Maramureş este chintesenţa tradiţiilor autentice, un loc unde oamenii încă îşi poartă costumele tradiţionale colorate, confecţionează obiecte casnice antice şi sunt mereu mândri să le spună vizitatorilor faimoasa lor colecţie de poveşti vechi. Împreună cu renumitul său Cimitir Vesel, unde pe fiecare mormânt se poate citi un poem autobiografic original, este cu siguranţă un loc ce merită să fie vizitat.
#2 Mănăstirile creştine din Moldova
Nici un alt loc din întreaga zonă nu vă poate oferi pacea şi sentimentul unic al împlinirii spirituale aşa cum o fac numeroasele mănăstiri împrăştiate prin regiunea Moldovei, fiecare cu elementele sale arhitecturale specifice şi povestea de ţinut minte.
#3 Castelul Peleş
Fie că vă plac poveştile cu prinţese, fie că sunteţi fascinaţi de tradiţiile monarhiei, Castelul Peleş îşi deschide uşile cu istoria sa fabuloasă oricărui turist cultural ce vizitează judeţul Prahova, situat în sudul ţării.
#4 Ţărmul Mării Negre
România se mândreşte de asemenea cu unicul său ţărm al Mării Negre cu cele 15 staţiuni primitoare şi plaje bine întreţinute, de calitate superioară.
#5 Cascada Bigăr
Cunoscută drept una dintre cele mai spectaculoase cascade din lume, Cascada Bigăr îşi dezvaluie misterul în judeţul Caraş-Severin pentru sute de vizitatori în fiecare an.
#6 Delta Dunării
Situată în partea de est a ţării, Delta Dunării este de departe un loc unic al calmului, serenităţii si misterului precum si al frumuseţii ce taie răsuflarea dacă am lua în considerare numai speciile de plante, păsări si peşti.
#7 Salina Turda
Situată în inima Transilvaniei, judeţul Cluj, Salina Turda este cu siguranţă un muzeu complet de istorie a mineritului de sare deschis pentru vizitare si tururi.
#8 Sibiu
Situat de asemenea în inima Transilvaniei, Sibiu a devenit recent mai cunoscut pentru alegerea sa drept capitală culturală a Europei în 2007, mai ales datorită centrului vechi si celor mai impresionante stiluri arhitecturale.
#9 Sighisoara
Situată în judeţul Mureş, Sighişoara este destinaţia turistică perfectă pentru fiecare vizitator avid după legende şi vestigii medievale.
#10 Bucureşti
Capitala României, Bucureşti este de asemenea cel mai mare şi mai impunator oraş din ţară.
Care din aceste locuri le-ai vizitat deja? Ai vrea sa adaugam si altele la lista de mai sus? Asteptam parerea ta!